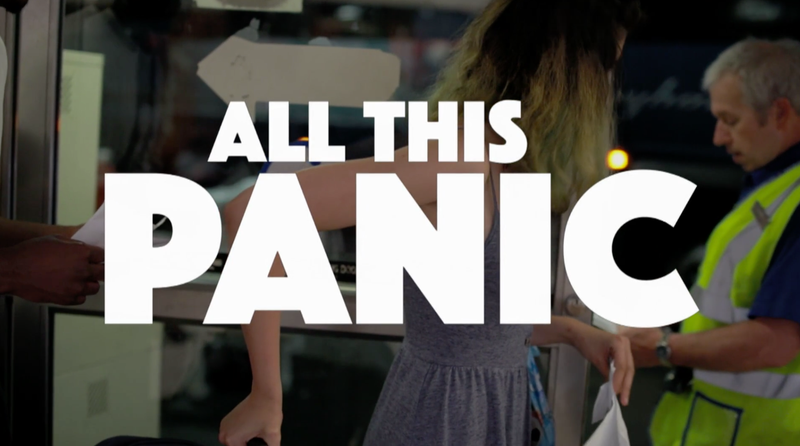 Secrets and sex. Parties and drugs. Shifting bonds with family and friends. Shot over a three-year period with unparalleled intimacy and access, 'All This Panic' follows a group of teenage girls from Brooklyn as they navigate the ephemeral and fleeting transition between childhood and adulthood.

In a world where, as one teen remarks 'they want to see us, but they don't want to hear us' the film is comprised entirely of young women speaking to their own experiences. And these are city kids, raised in the cultural capital of the world, where everything moves fast and there's no map for the road ahead with life-altering decisions made in the blink of an eye. While savvy and sophisticated, the girls' Brooklyn attitudes can't obliterate the baseline insecurities, fears and awkwardness shared by teens across the globe.
The critically-acclaimed coming of age documentary 'All This Panic' makes its television premiere Sunday, June 11 @ 9PM on FUSION TV. Channel listings here.
'All This Panic' is directed by Jenny Gage with Tom Betterton as Director of Photography; Christie Colliopoulos and Jennifer Ollman served as producers. The film screened at the London Film Festival, Tribeca Film Festival, Vancouver Film Festival before having a limited theatrical run earlier this year.
"This might be the most relatable film about teenage girls out there" — The Huffington Post
"An unprecedented look at modern girlhood" — Nylon
"Shimmering with feeling" — The Hollywood Reporter
"Cinematic confidant of teenage girls… a dreamy diary of a time that passes so quickly yet impacts so profoundly" — The New York Times
"A deeply felt tribute to youth but also to growing up; it's a time capsule of a fleeting, fragile moment when angst is mixed with beauty and everything seems ripe with potential" — The Los Angeles Times
---
More from the girls featured in the documentary below: